2023 Cadillac Escalade-V in Oklahoma City

2023 Cadillac Escalade-V at Bob Moore Cadillac of Oklahoma City
Check out the style and the power of the new 2023 Cadillac Escalade-V, the most powerful full-size SUV in the industry. Cadillac had been known for its luxury for decades, first with the ultimate in a sedan, and now with the SUV. Escalade-V is a three-row SUV with advanced technology, comfort, and power at your disposal. With the name Cadillac, you expect sophisticated luxury. You may even expect impressive versatility and dependability. However, you might be surprised at the power that comes with the 2023 Cadillac Escalade V as you drive around Edmond, Moore, and Oklahoma City. You can find out how to make this SUV your own at Bob Moore Cadillac of Edmond.
Top Features of The 2023 Escalade-V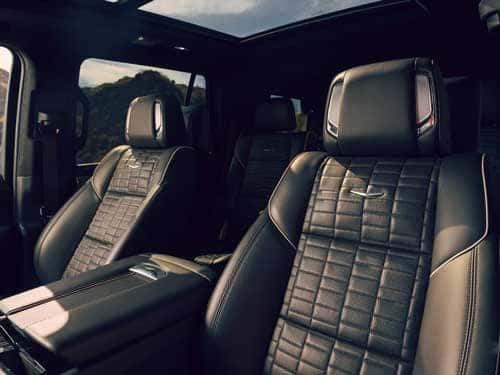 Obsessive Craftsmanship
When you get behind the wheel of this SUV, you are met with an array of premium materials like hand-finished leather appointments, natural wood accents, premium fabrics and more. The Escalade-V also features a 38-inch curved OLED that shows vehicle information with more pixels than a 4K TV.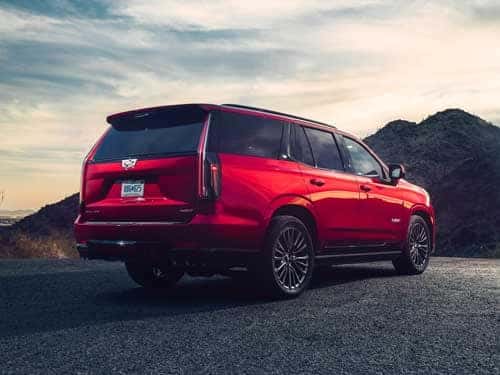 Expert Engineering
Built to stand out in the crowd with bold exterior design, 22-inch wheels, and 142.8 cu. ft. of cargo space, you can carry everyone's luggage while still giving them plenty of room to seat. Escalade-V is also built with superior Air Ride Adaptive Suspension to make your ride smooth and easy you can improve your experience by selecting the best drive mode for whatever your driving situation.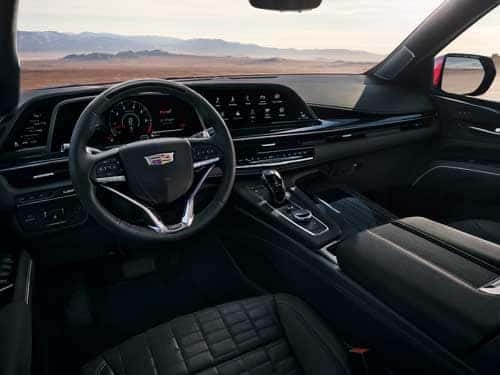 Advanced Interior Technology
An available AKG Studio Reference 36-speaker Audio System fills the cabin 360 degrees around with great sounds from the radio, your playlist, or even a podcast with an immersive sound experience you will enjoy. You will also appreciate the full-color Head Up Display, rear seat entertainment system, and the conversation enhancement feature that ties into your sound system, allowing conversations to be heard from front to rear, so everyone can participate.
Driving Excitement
Feel the power of the 6.2L supercharged V8 engine that was hand-built for the 2023 Cadillac Escalade-V. This engine is sure to impress with a jaw-dropping 682 horses under the hood and 653 lb.-ft. of torque. Take your travels from zero to 60 mph in just 4.4 seconds. Enjoy a comfortable and refined ride with the Air Ride Adaptive Suspension and magnetic ride control.
Immersive Innovation
Advanced innovation invites you into a new world in the 2023 Cadillac Escalade-V. Listen to your favorite music with the AKG Studio Reference audio system with amazing sound coming from 36 speakers. Easily see the information you want with the curved OLED 38-inch diagonal display. The screen provides double the pixel density of a 4K TV. Sit back and relax and let Super Cruise take care of you. This driver assistance technology includes automatic lane change on more than 200,000 miles of roads. When the system is activated, the turn signal is automatically displayed, and the vehicle smoothly changes lanes when it's necessary. Find your way with augmented reality navigation.
Bold Design
Get comfortable inside the 2023 Cadillac Escalade-V with its aggressive stance. Three rows of seating ensure you can bring everyone along for the ride. Relax in the 16-way power front seat, which includes heat and ventilation along with massage. Open up the panoramic UltraView sunroof for more natural lighting and a spectacular view. This model sports the distinct V-series badging with 22-inch wheels that are exclusive to the model. Also unique to the Escalade V is a new front and rear fascia with a quad exhaust.
Premium Safety
Stay safe on the highways in the 2023 Cadillac Escalade V. This SUV includes HD rear view camera with night vision and front part assist. Lake keep assist with lane departure warning lets you know when it's not safe to move into another lane. Adaptive cruise control keeps you at a safe distance from other vehicles when you're traveling at a set speed. Avoid more accidents with enhanced automatic emergency braking, parking assist, and seat belt tightening. You can even tow a trailer safely with trailer side blind zone alert to see around your RV or trailer when another vehicle is coming up beside you. Be warned when a pedestrian walks into your path to avoid a serious accident.
Most Powerful Full-Size SUV
With three engine options available, you can select your own level of power, but to get the most powerful engine that can offer a 8,200 lb. towing capacity you'll want the hand-crafted 6.2L Supercharged V8 engine that is standard on the Escalade-V. This powerhouse puts out 682 hp and offers a torque rating of 353 lb.-ft. of torque.
Cutting-Edge Driver-Assistive Safety Technology
Welcome to Super Cruise, which allows hands-free driving on some 200,000+ miles of compatible roads in the US and Canada. Super Cruise can even perform a single lane change on demand under specified conditions when requested by the driver. The automatic lane change feature automatically activates the turn signal and initiates the lane change when selected in the menu and is identified by the system as being optimal for a smooth and efficient ride. This is only a fraction of the safety features available with the 2023 Cadillac Escalade-V. Cadillac's Smart System features a suite of driver-assistive features to help make your ride safer and easier wherever you go.
If you want to learn more about the 2023 Cadillac Escalade-V, stop by Bob Moore Cadillac of Edmond and visit with our staff, then take a test drive and see why you'll fall in love with this exceptional luxury full-size SUV.