2022 Cadillac CT5 Technology and Features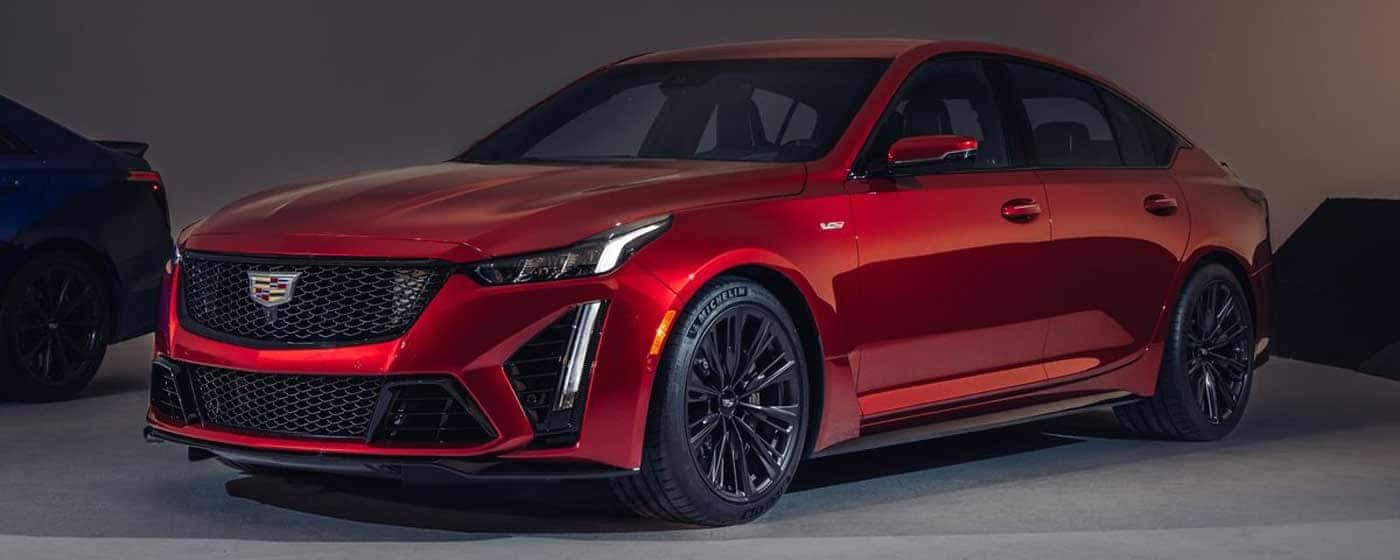 Tech & Features of The 2022 Cadillac CT5
For decades, Cadillac has conjured images of cutting-edge technology as well as luxurious comfort. In today's technology age, Cadillac is still at the forefront of technological advances and features. The 2022 Cadillac CT5 provides a world of technological features for comfort, convenience, and safety. Bob Moore Cadillac of Oklahoma City has several CT5 models available, so you can explore some of these great features to enhance your driving experiences in Oklahoma City and Norman.
Plug In with Wireless Technology
You can plug in without cables in the 2022 Cadillac CT5 using features like Apple CarPlay and Android Auto. Connecting with these features allows you to expand your driving experience with convenience whether driving or just being along for the ride. These perks allow you to access music, maps, messages, and more from your smartphone via the 10-inch diagonal colored touchscreen, whether Apple or Android-based. If your phone's battery runs a bit low, you can recharge simply by placing your phone or other compatible device onto the available wireless charging pad.
Alexa Onboard
If you need more connections in the 2022 Cadillac CT5, that can also be arranged because Amazon Alexa is on board. This AI executive assistant can be accessed as easily as if you were at home simply by calling out her name because Cadillac has integrated her into your Cadillac. Ask her to send a message, stream your favorite playlists, make calls, change radio stations, or even tell you a joke.
Four Media Interface Options
Have your media easily accessed with the Rotary Infotainment Controller with Jog functionality or one of the other three options available in the CT5. Your interfaces include voice command, the touchscreen, press a button on your steering wheel, or press and rotate the rotary dial, whichever one works best for you.
Quiet or Noisy: The Choice is Yours
Cadillac's CT5 cabin is optimized for your tastes. If you want to escape all the noise that resounds all around us, the active noise cancellation feature monitors engine sounds and automatically sends inaudible noise cancellation waves throughout your sound system to quiet your ride and give you some peace and tranquility. Or, crank It up with the powerful studio quality sound of AKG or immerse yourself in the rich full tones of Bose with premium quality sounds.  You can even keep your crew entertained with the available Wi-Fi hotspot, with plenty to entertain your friends and family on those traveling vacations.
Safety Technology
Venture out on the road with confidence and peace of mind because Cadillac has your back with the Cadillac Smart System's safety features to watch over you with driver-assistive technology. Enjoy features like Forward Collision Alert that scans what is ahead of you and warns you of impending dangers, like a wayfaring pedestrian crossing the road or an animal. If you are a little slow to respond, the automatic emergency braking system applies braking pressure to keep you safe.
If you want to see all the technology the Cadillac CT5 offers, come by Bob Moore Cadillac of Oklahoma City and check out the CT5 in person with a test drive.